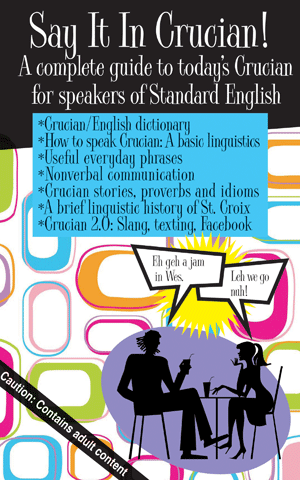 A compasnion to this website, Say it in Crucian! A Complete Guide to Today's Crucian for Speakers of Standard English was published in 2008. The book features everyday phrases in Crucian, a basic linguistics (as compared to Standard English), conversations, stories, retold fairytales, a brief linguistic history of St. Croix and a Crucian/Standard English dictionary. By Robin Sterns. Published by Antilles Press.
Reviews:
"Say it in Crucian! is a reader-accessible guide to the language of St. Croix that combines a wealth of spicy and vividly up-to-the-minute examples with a level of linguistic and sociolinguistic savvy seldom found in popular introductions. It presents its topic in a way that provides fun for the tourist as well as solid information for the expert. If only every creole language had a book like this!" -Derek Bickerton, linguist, author of Bastard Tongues: A Trail-Blazing Linguist Finds Clues to Our Common Humanity in the World's Lowliest Languages.
"Mehson you had me craking up on deh chair, my bos looking a me al weird and suh buh me ain mind. Dis book is off deh chain!" - Miguelina Valdes, St. Croix
Buy it:
The first edition is sold out in hard copy. Copies show upoccasionally on Amazon or eBay (usually at ridiculous prices). You can have a pdf of the book for $5.99 - it's available under "store" at Virgin Islands Dictionary on Facebook, or you can e-mail me at rsterns(@)gmail(.)com.
New in 2014:
I'm working on a second edition of Say it in Crucian! with an expanded dictionary and new stories. If you speak Crucian and are interested in contributing a story, please contact me for details.